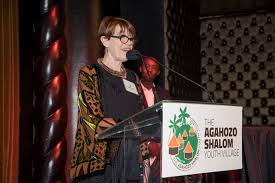 Kerry Fund Founder, Mikey Walker honored by ASYV
The Anne Heyman Spirit Award honors those who demonstrate the best of what makes ASYV a family: Passion, Dedication, and Love for the Village's kids. Mikey Walker is the president of the Kerry Jon Walker Fund, whose mission is to promote humanitarian programs that improve health, education, and economic opportunity for vulnerable people in the United States and Africa. Through her work at the Fund, Mikey has been leading underserved Boston youth on service-learning trips to the Village since 2013. By providing young people with this opportunity for cultural exchange, Mikey highlights their capacity to give and receive from others – to celebrate both our shared humanity and what makes each of us unique. In addition, trip participants work together to fundraise for ASYV students and collect supplies, which they deliver during their stay to support the Village's programs.
Mikey worked in teaching and business before finding her calling in school leadership. In 1995, she joined Old Colony Montessori in Hingham, Massachusetts as the Head of School, where she has been ever since.
2018 South Shore People to Watch.
Mikey Walker, the head of school at Old Colony Montessori in Hingham, is known for her spectacular smile, passion for education and commitment to civic work. She is the founder of the Kerry Jon Walker Fund, a nonprofit organization created in memory of her late son, which aims to bring awareness to the devastating poverty faced by children in West Africa.  The group, which was recently named a Cummings Foundation $100K for 100 award recipient, has shipped thousands of pounds of books, educational supplies, medicine, clothing, toys and eye glasses to the country of Guinea and holds annual mission trips.
Last summer, the fund sponsored five underprivileged Boston students so that they could travel abroad and give back to orphaned teens at the Agahozo-Shalom Youth Village in Rwanda.  The trips are both educational and enlightening for students, promoting intercultural sensitivity and providing them with a sense of satisfaction from being able to help others. By exposing young people to these opportunities, Walker is helping to nurture the next generation of global citizens.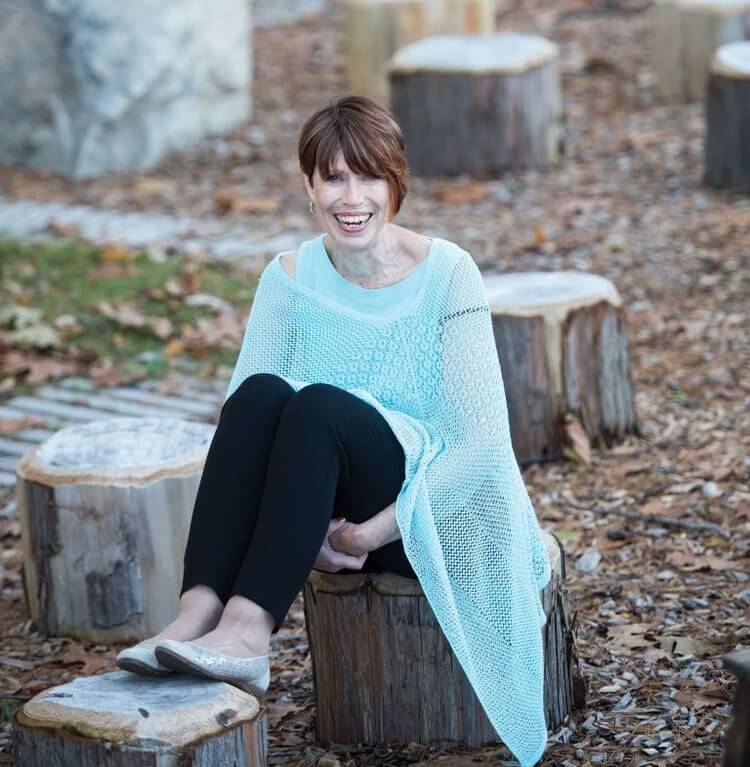 Hull woman finds healing through service trips.
Mikey Walker's foundation takes Boston students to Africa for service work and international learning.
HINGHAM – When Mikey Walker's 20-year-old son Kerry died in 1996, she spent years struggling to cope and looking for an outlet for her grief. She finally found one when she joined a group of Hull women who came together for African drumming, and her new hobby took her to Guinea in 2004.
"I went for a totally different reason than what would eventually affect the rest of my life," Walker, of Hull, said. "When I was there my heart just shifted – it blew up. I don't even have the words to explain the poverty but also the richness of life and culture."
Walker has gone back to Africa every year since, hauling supplies across the world and giving to others in a way she calls "deep and profound." It wasn't long before she wanted to share that feeling with others, and six years ago she started bringing Boston students along on her annual summer trips to Rwanda.
"The trips did something to my heart that was kind of extraordinary," Walker said. "And it morphed into wanting to give other kids opportunities they wouldn't normally have to help. We want to give them an opportunity to see themselves in a different way, and to maybe make their lives a little bigger."
This summer, The Kerry Jon Walker Fund will take 10 Boston teenagers to the Agahozo-Shalom Youth Village in Rwanda where they will get to know students their age, work in the village's kitchen, help on a farm, do after-school activities with local orphans and tutor students in English.
In addition to service work, the students also visit other nearby villages and study a "very intense" curriculum focused on the 1994 Rwandan genocide.
"It helps them understand how hate speech and rhetoric are the underpinnings of genocide," Walker said. "The Holocaust is hard for them to study and connect to, because it was so long ago, but here they see where this tragedy happened and meet people their own age who suffered from it."
To raise money for the trip, which is a little less than three weeks long and leaves at the end of June, Walker is hosting an art auction and Rwandan market in Hingham on Saturday, Nov. 18.
"It will be gala-ish, but with a primary focus being around art," Walker said. "We want to show how much talent there is in our community, in addition to auctioning some beautiful art pieces I have brought back from Rwanda."
The evening includes music by John Walker and the Monks of Funk, food provided by The Hart Brothers, a cash bar, a silent and live auction and a Rwandan Market of hand-crafted wares. Local artists have donated their work to the event, including an acrylic painting by Tayla Fitzpatrick of Bsoton's Artists for Humanity and a mosaic by Hull's Nanci Jaye.
It costs roughly $5,000 per student for the trip, including air fair, lodging and food. Walker says she doesn't have a fundraising goal for this month's event, because she knows the fund will be able to "do something good" with any amount of money it raises.
Once the group has raised enough money for this year's trip, Walker said she wants to expand the fund to include work with Partners In Health, a organization that builds homes for women and families with AIDS.
The event takes place from 7 to 10 p.m. at Congregation Sha'aray Shalom, 1112 Main St., Hingham. For more information, visit thekerryfund.com.
By Mary Whitfill may be reached at mwhitfill@ledger.com.
Grateful to our media partners, sharing our history highlights…